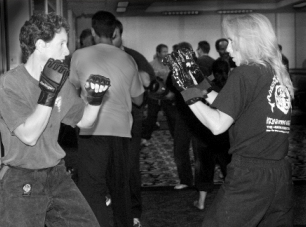 American Kenpo Karate, Kick Boxing & Brazilian Jiu-Jitsu is a school that teaches you and yours, how to defend yourself in any situation! This school offers a true mix of martial arts including Richard "Dick" Willett's American Kenpo Karate, Kick Boxing and Brazilian Jiu Jitsu. The school also has programs to help you get into great aerobic shape and learn self defense.
The school is located in the North Park neighborhood of San Diego:
American Kenpo Karate & Kick Boxing 3030 El Cajon Blvd., San Diego, CA 92104. (619) 283-6596
Call Todd McElhinney for more information.